Beer of the Month Club
Batch #1
*Note: I think some of these may have been tainted due to me using the dishwasher for my beer glasses. Think it gave each beer a weird tinny flavor. I have since started hand washing all my beer glasses
Brewery: Sebago Brewing Company
Style: American Strong Ale
Glass: Cognac glass
Look: Amber translucent pour with a creamy head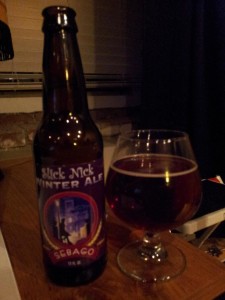 Smell: Caramel and some hoppiness and spicy
Taste: Has an interesting hoppyspicy taste which coincided with the smell. Not much body. I felt this was kind of bland over all
I ended up only drinking one of these and letting others drink the other two. I guess this goes to show how I felt.
2/5 mugs
Black Boss Porter
Brewery: Boss Browar Witnica S.A
Style: Baltic Porter
Glass:Guinness pint glass
Look:Amber with rubyish color with about an inch head
Smell:Dark chocolate, caramel, coffeeespresso
Taste: Darkchocolate and malty. You can't tell it's a 9.4% ABV. Definitely drinkable
I really enjoyed thisbeer, so much so that I have been rationing them, I think there is still onehidden in the back of the fridge and haven't let anyone else try it. Great afterdinner beer.
4/5 mugs
Hobgoblin
Brewery: Wychwood  Brewery Company
Style: English Strong Bitter
Look:Dark

amberish

. Head

dissipated

rather quickly. It was double the size of thebelow picture but quickly dropped.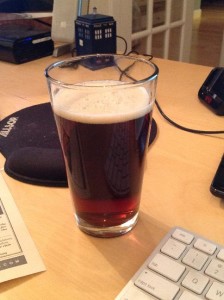 Smell:Caramel with an almost maple like smell.
Taste:Subtly sweet with caramel and toffee flavors but still gives you the bitternessof a dark English ale
This was the only beer that I had before andrecognized. I have always thoroughly enjoyed this brew. Great English stylebitter.
4/5
Diamond Bear Pale Ale
Brewery: Diamond Bear Brewing Company
Style: English Pale Ale
*Note: I have mytasting notes labeled as Dales Pale Ale which never came in the beer of themonth packages,  My tasting notes kind ofmatch up with the brochure included blurb so there's a chance I just had DalesPale Ale on my mind while drinking this.
Look: Light copper colorwith decent sized head
As you can see, Idon't have much to say about this and to be honest I don't even remember thisall that well to add on to my tasting notes. So I think it's safe to say that Ididn't enjoy this very much. If I mislabeled the note to be another pale ale, Iwas probably wish I was drinking a different pale ale.
?/5 mugs