We review Ant-Man! 
However, before reviewing Ant-Man we decided to torture ourselves. Mike, Josh and myself do a blind taste of four of those "yellow" beers.
Miller Lite

WINNER!

Pabst Blue Ribbon
Budweiser
Sapporo
Our old friend, Ray, joined us as sort of an off to the side guest. He poured the beers into numbered cups for us and chimed in occasionally. We hope to have him back as a full featured guest in the near future!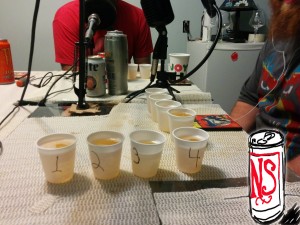 All 3 of us were completely wrong when it came to deciphering which beer was which. We did however unanimously decide that Beer #1 (Miller Lite) was the best.
Above you'll find the order in which the beers were presented to us and below you'll find what we thought each one was.
*NOTE* The below order does not signify the order in which we would rate these beers. We already tortured our pallets enough and decided to stop the rating at the best overall
Mike & Josh:
Sapporo
Budweiser
Miller Lite
Pabst Blue Ribbon
Shaun:
Pabst Blue Ribbon
Miller Lite
Sapporo
Budweiser
Beers (Good Ones)
Night Shift Absolution
Container: 64oz Growler
Glassware: 2014 and 2015 Night Shift Barrel Society Glasses
Overall Nerdsense Rating: 3.5\5
Notes: Definite hazelnut coffee comes up on the aftertaste.  It got a lot smoother as it warmed up in the glass. At first the three of us weren't blown away by it but as it warmed, we all agreed it got better.
Podcast: Play in new window | Download
Subscribe: Apple Podcasts | Android | RSS